Welcome to Montreal, a city filled with hidden gems waiting to be discovered! If you're tired of the usual tourist attractions and looking for something different, you're in for a treat. In this guide, we'll take you off the beaten path and introduce you to unique things to do in Montreal. From exploring vibrant street art and indulging in mouth-watering food to immersing yourself in the city's rich history and culture, there's something for everyone. Get ready to step outside your comfort zone and embark on an adventure that will leave you with memories to last a lifetime. So, let's dive in and uncover the hidden gems that make Montreal truly one-of-a-kind.
Montreal lies on an island at the confluence of the Ottawa and St. Lawrence rivers. In 1642, the city of Ville-Marie was founded here, the purpose of which was to transship and store products delivered to and exported from Canada by sea. The reason was prosaic. Ocean liners were unable to proceed further upstream, so this place was a convenient port for transshipment to smaller vessels. Over time, Ville-Marie changed its name to Montreal.
Explore the historic district of Old Montreal
Located along the St. Lawrence River, Old Montreal is a charming neighborhood that takes you back in time. As you stroll through the cobblestone streets, you'll be surrounded by beautiful architecture, historic buildings, and a unique European vibe. Start your exploration at Place d'Armes, a picturesque square that is home to the stunning Notre-Dame Basilica. Step inside this architectural masterpiece and admire its intricate details and mesmerizing stained glass windows. Don't forget to visit the Pointe-à-Callière Museum, where you can delve into Montreal's fascinating history through interactive exhibits and archaeological artifacts. As you wander through the narrow streets, make sure to stop by the Marché Bonsecours, a vibrant market showcasing local artisans and their crafts.
Discover the underground city
Montreal is famous for its vast underground city, known as the RESO. This underground network spans over 32 kilometers and connects shopping malls, office buildings, hotels, metro stations, and more. It's a world of its own, complete with shops, restaurants, and even a concert hall. Take a stroll through this underground labyrinth and explore its hidden gems. From designer boutiques to cozy cafes, you'll find everything you need without ever stepping foot outside. Don't miss the opportunity to visit the RÉSO's largest shopping center, the Eaton Centre, where you can shop till you drop and enjoy a variety of dining options.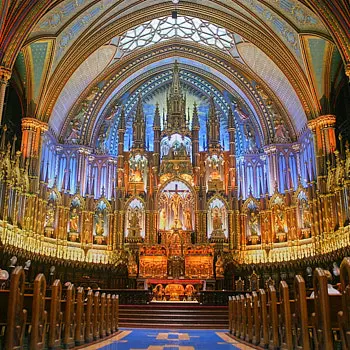 Visit the stunning Notre-Dame Basilica
Mark Twain reportedly said, "In Montreal, you can't throw a brick without hitting a church." And he was right. From the beginning of the city's existence, missionaries had their headquarters here and the influence of the Catholic Church on the city can still be seen today. One church deserves your special attention - the neo-Gothic Notre-Dame Basilica. From the outside it may not be inviting, but inside... it's a completely different story. No wonder Celine Dion chose it for her wedding venue.
Located in the heart of Old Montreal, this stunning architectural masterpiece is a must-see. Step inside and be prepared to be awed by its grandeur. The intricate woodwork, beautiful stained glass windows, and impressive altar make this a truly breathtaking sight. If you're lucky, you might even catch a musical performance or a light show that brings the basilica to life. Take your time to explore every corner of this sacred space and soak in its peaceful ambiance. Whether you're religious or not, the Notre-Dame Basilica is sure to leave a lasting impression.
Experience the vibrant arts scene at the Montreal Museum of Fine Arts
Art enthusiasts will find their haven at the Montreal Museum of Fine Arts. With its extensive collection of over 42,000 works, this museum is a treasure trove of artistic masterpieces. From ancient artifacts to modern and contemporary art, there's something for every taste. With works by renowned artists such as Picasso, Monet, and Warhol, it is a treasure trove for art enthusiasts. Explore the various exhibitions and immerse yourself in the world of art. Don't miss the opportunity to attend one of the museum's many events, such as lectures, workshops, and live performances. Whether you're a seasoned art lover or just curious to learn more, the Montreal Museum of Fine Arts is a must-visit destination.
Explore the colorful neighborhoods of Plateau-Mont-Royal and Mile End
If you're looking for a vibrant and eclectic atmosphere, head to the Plateau-Mont-Royal and Mile End neighborhoods. These areas are known for their colorful houses, trendy boutiques, and lively street art. Take a leisurely stroll along Mont-Royal Avenue and discover unique shops, cozy cafes, and mouth-watering restaurants. Don't miss the iconic Schwartz's Deli, where you can indulge in a world-famous Montreal smoked meat sandwich. As you explore the streets, keep an eye out for the vibrant murals that adorn the buildings. The street art scene in these neighborhoods is constantly evolving, so you never know what hidden gems you might stumble upon.
Enjoy the beautiful nature at Mount Royal Park
Escape the hustle and bustle of the city and find tranquility at Mount Royal Park. This sprawling green oasis is a favorite among locals and visitors alike. Lace up your walking shoes and embark on a hike to the summit of Mount Royal, where you'll be rewarded with panoramic views of the city. If hiking isn't your thing, you can also rent a bike or have a picnic in one of the park's many picnic areas. During the summer months, the park comes alive with various events and festivals, including outdoor concerts and theater performances. Whether you're seeking adventure or a peaceful retreat, Mount Royal Park has something for everyone.
Mont Royal is simply called The Mountain here, although it is a hill, a hill slightly over 230 m above sea level. The architect of the park in The Mountain was Frederick Law Olmstead - the same one who designed Central Park in New York. In fact, The Mountain is the true cradle of Montreal. Somewhere here, at the foot of this hill, the Iroquois made the foundations of the city, founding a village called Hochelada, which is said to mean "place of the beaver." They had ideas for names!
Indulge in delicious cuisine at the city's diverse food markets
Montreal is a culinary paradise. The city is known for its vibrant food scene, which is heavily influenced by its multicultural population. One of the best ways to experience its diverse food scene is by visiting its markets. One of Montreal's most famous culinary creations is the smoked meat sandwich, a delicious combination of tender, flavorful beef served on rye bread with mustard. Another must-try dish is poutine, a Canadian classic consisting of french fries topped with cheese curds and smothered in gravy. For those with a sweet tooth, a visit to a local bakery to sample a traditional Montreal-style bagel is a must.
Start your food adventure at Jean-Talon Market, the largest open-air market in North America. Here, you'll find a wide variety of fresh produce, local cheeses, baked goods, and more. Take your time to explore the stalls and interact with the friendly vendors. Don't miss the opportunity to try some maple syrup treats, a Canadian specialty. Another must-visit market is Atwater Market, located near the Lachine Canal. This market is known for its gourmet products, including artisanal cheeses, charcuterie, and pastries. Indulge your taste buds and discover the flavors of Montreal at these bustling food markets.
Attend a festival or event in Montreal
Montreal is a city that loves to celebrate, and there's always something happening year-round. From music festivals and cultural events to food fairs and sports competitions, there's never a dull moment. One of the highlights is the Montreal Jazz Festival, which takes place every summer and attracts both local and international artists. The festival features over 500 concerts and is considered the largest jazz festival in the world. Another highlight is the Montreal International Fireworks Competition, held during the summer months. Spectators are treated to breathtaking displays of pyrotechnics set to music, creating a truly magical experience. The Just for Laughs comedy festival, held in July, brings together some of the biggest names in comedy for a week of laughter and entertainment. If you're visiting in winter, don't miss the Montreal en Lumière festival, where you can enjoy outdoor activities, culinary experiences, and live performances. No matter the time of year, there's always a festival or event that will capture your interest and make your visit to Montreal truly memorable.
Conclusion
Montreal is a city full of surprises and hidden gems waiting to be discovered. From its historic district of Old Montreal and underground city to its vibrant arts scene and colorful neighborhoods, there's something for everyone. Whether you're exploring the city's rich history, indulging in its diverse cuisine, or immersing yourself in its cultural events, Montreal offers a unique and unforgettable experience. So, step outside your comfort zone, embrace the unknown, and let Montreal's hidden gems captivate your heart. Start planning your adventure today and get ready to create memories that will last a lifetime.