Welcome to a world of endless adventure at Legoland Germany, where imagination comes to life! This ultimate family destination offers an unforgettable experience that will ignite the imaginations of both young and old alike. With over 60 attractions, including thrilling rides, interactive shows, and hands-on experiences, there is something for everyone to enjoy.
Embark on a journey through various themed lands, from the medieval Kingdom to the futuristic world of Lego Ninjago. Immerse yourself in the captivating Miniland, featuring famous landmarks meticulously recreated with millions of LEGO bricks. Feel the adrenaline rush on exhilarating coasters like the Fire Dragon ride or test your creativity at the Lego Rebuild the Word Center.
At Legoland Germany, every moment is an opportunity to create memories together as a family. Whether you are building and racing or enjoying a spectacular 4D movie experience, there is no shortage of excitement and fun.
So, pack your bags and get ready to unlock adventure at Legoland Germany – where dreams become reality and the magic of Lego awaits. Your family's unforgettable experience awaits!
Why Legoland Germany is a perfect family destination
Legoland Germany is the perfect family destination for a multitude of reasons. Firstly, it offers a wide range of attractions and activities suitable for all age groups. Whether you have young children or teenagers, there is something to keep everyone entertained and engaged. From gentle rides and interactive shows for the little ones to thrilling roller coasters and virtual reality experiences for the older kids, Legoland Germany caters to all tastes and preferences.
Moreover, Legoland Germany encourages creativity and imagination in a unique and engaging way. The entire park is built around the concept of Lego, allowing children and adults alike to immerse themselves in a world of endless possibilities. The attention to detail in the Lego models and the stunning recreations of famous landmarks in Miniland are truly awe-inspiring. From exploring a medieval castle to embarking on a space mission, the opportunities for imaginative play are endless at Legoland Germany.
Additionally, Legoland Germany provides a safe and family-friendly environment. The park is well-maintained, with clean facilities and friendly staff who are always ready to assist. There are also designated areas for younger children, ensuring that even the littlest members of the family can enjoy the park at their own pace. With its focus on family fun and entertainment, Legoland Germany guarantees a memorable experience for everyone.
Attractions and rides at Legoland Germany
Legoland Germany boasts an impressive array of attractions and rides that are sure to thrill and delight visitors of all ages. You can check the current list of them all on the Legoland Germany website. Here we will mention only a few of the dozens of attractions that are worth your attention.
Miniland is one of the most iconic and captivating attractions at Legoland parks around the world, including Legoland in Germany. It's a meticulously crafted miniature world built entirely out of LEGO bricks. Miniland features incredibly detailed and accurate miniature replicas of famous landmarks, cities, and scenes from around the world. These are constructed entirely from LEGO bricks, and the level of detail can be astonishing. Each Legoland park's Miniland typically showcases a mix of local and international landmarks. For example, at Legoland Germany, you can expect to see German landmarks such as the Brandenburg Gate in Berlin and Neuschwanstein Castle in Bavaria, or Hamburg. But there is also beautiful bridge of Luzern in Switzerland.
Miniland is not just a static display. Many parts of it are interactive. Visitors can often push buttons or turn knobs to set various elements in motion. For example, you might be able to make a miniature train move or see boats sailing in a miniature harbor. Miniland is not only entertaining but also educational. It offers visitors a chance to learn about geography, history, and architecture as they explore the various landmarks and scenes. Informational plaques or signs are often placed near each display to provide context. And lastly, Miniland provides fantastic opportunities for photography. The level of detail and realism in the LEGO models can make it look like you're visiting real places, but in a much smaller scale.
One of the highlights of the park is the Fire Dragon, a thrilling roller coaster that takes you on a journey through a medieval castle. The twists, turns, and unexpected surprises make this ride a must-try for adrenaline junkies. Believe us, this ride will shake you up and down, left and right. But after you finish you feel that you need more! 😀
For people who love rollercoasters and want to get even wet, we recommend a trip in the footsteps of Johnny Thunder. The Jungle X expedition will take you through the rainforest to the very top of a huge volcano. You know what's about to happen? This is how you slide down a steep 12-meter water slide from the top of the volcano to the lagoon. Good luck!
The newest Lego attraction in Germany is the Maximus. It is a roller coaster speeding 17 meters above the ground! Along the way, you'll experience several spirals at over 50 km/h, sharp turns left and right, and upside-down rides. Remember to leave your wallet, glasses and mobile phone on the shelves before starting the ride. It is an unusual but very short adventure!
For those who prefer a more interactive experience, the Rebuild the World Center is a must-visit. Here, you can build with Lego, unleashing your creativity and problem-solving skills. The center offers workshops and challenges for both beginners and advanced builders, making it a fun and educational experience for the whole family.
Legoland Germany offers a wide range of attractions that are also suitable and enjoyable for younger children. Duplo Land is designed with younger children in mind, particularly those between the ages of 2 and 6. It features attractions and play areas that are perfect for preschoolers. One of them is Duplo Express which is a gentle train ride. It's specifically designed to provide a fun and enjoyable experience for young children, making it a great choice for families with toddlers and preschoolers. Other attraction in Duplo Land include Duplo Playtown - an interactive play area where children can build with oversized Duplo bricks – and Duplo Airport - an aviation-themed play area with slides and climbing structures.
For little older fans of Lego Ninjago, you won't want to miss the Lego Ninjago World. This immersive land allows you to become a ninja and test your skills in various interactive challenges. From battling enemies in the Lego Ninjago Ride to mastering the art of Spinjitzu, there is plenty of action-packed fun to be had in this exciting world.
These are just a few examples of the many attractions and rides that await you at Legoland Germany. With so much to see and do, you and your family will be entertained for hours on end.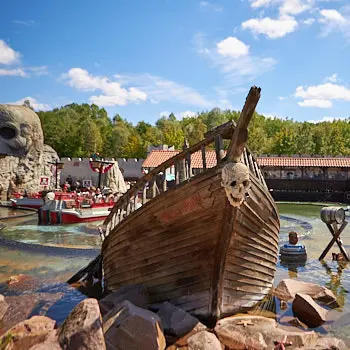 Tips for visiting Legoland Germany with kids
Visiting Legoland Germany with kids can be an exciting and memorable experience. To make the most of your trip, here are some helpful tips to keep in mind.
Plan ahead: Before you visit Legoland Germany, take some time to research the park's attractions, shows, and dining options. Create a rough itinerary for the day, including must-see attractions and any special events or shows you don't want to miss. You can also download Lego application on your mobile which is very helpful with finding the attraction you are looking for and learning the estimating time you have to stay in line.
Arrive early: To avoid long queues and make the most of your day, try to arrive at the park early in the morning. This will give you ample time to explore the different areas of the park and experience the most popular attractions before they get crowded. Although most of the people arrive early not all of them run immediately to the attraction which are placed on the other side of the park 😁
Dress comfortably: Legoland Germany is a large park, and you will be doing a lot of walking throughout the day. Believe us – A LOT! Make sure to wear comfortable shoes and dress in layers, as the weather can change throughout the day. But remember that on hot days it can be very hot in the park as there are very little shadowed areas to hide.
Bring snacks and water: While Legoland Germany offers a variety of dining options, bringing your own snacks and water can help keep costs down and ensure that you have something to munch on between meals. In front of the washrooms there are points of water where you can refill your bottle for free.
Take advantage of the parent swap option: If you have young children who are not tall enough to ride certain attractions, Legoland Germany offers a parent swap option. This allows one parent to wait with the child while the other parent rides the attraction, and then they can switch without having to wait in line again.
Don't forget sunscreen: Legoland Germany is an outdoor park, so it's important to protect your family's skin from the sun's rays. Apply sunscreen regularly throughout the day and consider bringing hats and sunglasses for added protection.
By following these tips, you can ensure a smooth and enjoyable visit to Legoland Germany with your kids.
Dining options at Legoland Germany
Legoland Germany offers a variety of dining options to suit every taste and preference. From quick-service restaurants to themed eateries, there is something for everyone to enjoy.
If you're looking for a quick bite to eat, the park has several fast-food outlets that offer a range of options, including burgers, sandwiches, and pizza. These establishments are perfect for a convenient and satisfying meal on the go.
For those seeking a more immersive dining experience, Legoland Germany has themed eateries that offer unique menus and atmospheres. The Knights' Tavern, for example, allows you to dine in a medieval setting while enjoying dishes inspired by the era. The Pirate's Cove Restaurant is another popular choice, offering a selection of seafood dishes in a pirate-themed setting.
If you have dietary restrictions or preferences, don't worry – Legoland Germany also offers vegetarian, vegan, and gluten-free options at select restaurants. Just ask the staff, and they will be happy to assist you.
It's worth noting that bringing your own food and drinks into the park is allowed. This can be a cost-effective option, especially for larger families or those with specific dietary needs.
Accommodation near Legoland Germany
If you're planning a visit to Legoland Germany, it's a good idea to consider staying in accommodation near the park. This will allow you to maximize your time at the park and minimize travel time. Fortunately, there are several accommodation options available in the vicinity of Legoland Germany. From budget-friendly hotels to luxury resorts, you can find something to suit your needs and preferences.
One popular choice is the Legoland Feriendorf, which is located right next to the park. This themed hotel offers a range of Lego-themed rooms and cottages, allowing you to extend the Lego experience beyond the park itself. The hotel also features play areas, entertainment options, and dining facilities, making it a convenient choice for families.
If you prefer to stay in a traditional hotel, there are several options within a short distance of Legoland Germany. These hotels offer a range of amenities, including swimming pools, restaurants, and family-friendly facilities. Many also provide shuttle services to and from the park, further enhancing convenience for visitors.
Before booking your accommodation, it's a good idea to check for any special offers or packages that may be available. Legoland Germany often collaborates with nearby hotels to offer discounted rates or exclusive perks for park visitors. Taking advantage of these deals can help you save money and make your visit to Legoland Germany even more memorable.
How to save money on tickets to Legoland Germany
Visiting Legoland Germany can be a dream come true for many families, but it's important to consider the cost of tickets. Fortunately, there are several ways to save money on tickets and make your visit more affordable.
Purchase tickets in advance: Buying your tickets online in advance can often save you money compared to purchasing them at the gate. Legoland Germany frequently offers discounted rates for advance purchases, so be sure to check their website for any current promotions or special offers.
Look for package deals: Legoland Germany often collaborates with nearby hotels and attractions to offer package deals that include discounted tickets. These deals can provide significant savings, especially if you plan to stay overnight or visit other nearby attractions.
Check for special discounts: Legoland Germany offers discounted tickets for certain groups, such as seniors, students, and military personnel. If you fall into one of these categories, be sure to inquire about any available discounts.
Visit during off-peak times: Legoland Germany tends to be less crowded during weekdays and outside of school holidays. Consider visiting during these off-peak times to take advantage of lower ticket prices and shorter queues.
By taking advantage of these money-saving tips, you can enjoy all that Legoland Germany has to offer without breaking the bank.
Conclusion: Creating lasting memories at Legoland Germany
Legoland Germany truly offers an unforgettable family experience. From the moment you step through the gates, you are transported into a world of imagination and adventure. With its wide range of attractions, thrilling rides, interactive shows, and hands-on experiences, Legoland Germany provides endless entertainment for visitors of all ages.
Whether you're building your own LEGO creations, exploring themed lands, or enjoying a live show, every moment at Legoland Germany is an opportunity to create lasting memories with your family. The park's attention to detail, commitment to safety, and focus on family-friendly fun make it a perfect destination for a fun-filled getaway.
So, pack your bags, gather the family, and get ready to unlock adventure at Legoland Germany. This magical world of Lego awaits, ready to ignite your imagination and create memories that will last a lifetime.