Welcome to Bodrum, Turkey's coastal gem that will captivate your senses and leave you longing for more. Nestled on the breathtaking Aegean Sea, this enchanting destination is a harmonious blend of ancient history, picturesque landscapes, and vibrant culture.
Immerse yourself in the rich history of the region by visiting the mighty Bodrum Castle, built by the Knights Hospitaller in the 15th century, or by taking a stroll through the ancient ruins of the Mausoleum at Halicarnassus, one of the Seven Wonders of the Ancient World. For water lovers, Bodrum's crystal-clear waters are perfect for diving, snorkeling, and sailing, allowing you to discover a vibrant underwater world teeming with marine life.
With its vibrant nightlife scene, Bodrum comes alive after the sun sets. From trendy beach clubs to lively bars and glamorous nightclubs, there's no shortage of entertainment options to keep you dancing until the early hours.
Join us as we explore the beautiful charms of Bodrum and uncover the hidden treasures that make this Turkish paradise a must-visit destination.
Historical significance of Bodrum
Bodrum's rich history dates back thousands of years, and it is home to some of the most significant historical sites in Turkey. One of the standout attractions is the mighty Bodrum Castle, also known as the Castle of St. Peter. Built by the Knights Hospitaller in the 15th century, this imposing structure stands as a testament to the region's medieval past. Inside, you'll find a fascinating museum housing artifacts from various periods, including ancient sculptures, ceramics, and ancient shipwrecks.
Another historical marvel in Bodrum is the Mausoleum at Halicarnassus. Although only a few remnants of this ancient wonder remain, it is still awe-inspiring to stand amidst the ruins of what was once one of the Seven Wonders of the Ancient World. Take a leisurely stroll through the site and let your imagination transport you back to the time of ancient civilizations. Unfortunately, the best-preserved fragments of the mausoleum can be seen in... the British Museum in London.
Bodrum is also known for its charming old town, where the narrow winding streets are lined with traditional whitewashed houses adorned with vibrant bougainvillea. As you wander through the cobblestone alleys, you'll come across ancient ruins, Ottoman-era architecture, and quaint cafes. The old town is a treasure trove of history and culture, offering a glimpse into Bodrum's past.
Top attractions in Bodrum
In addition to its historical significance, Bodrum boasts a plethora of attractions that will leave you in awe. One such attraction is the Underwater Archaeology Museum, located within Bodrum Castle. Dive into the depths of the Aegean Sea without getting wet as you explore the museum's impressive collection of underwater artifacts. From ancient shipwrecks to intricate sculptures, this museum offers a unique insight into the region's maritime history.
For a taste of Bodrum's natural beauty, head to the Bodrum Peninsula. This stunning stretch of coastline is dotted with idyllic bays, secluded coves, and turquoise waters. One of the most popular spots is the breathtakingly beautiful Camel Beach, known for its golden sands and crystal-clear waters. Whether you're lounging on the beach, snorkeling in the vibrant underwater world, or simply soaking up the sun, the Bodrum Peninsula is a slice of paradise.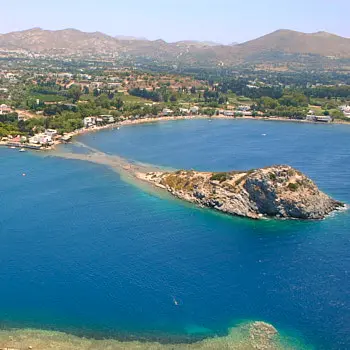 Exploring Bodrum's beaches and coastline
Bodrum is renowned for its pristine beaches and stunning coastline. One of the most popular beaches is the aptly named Paradise Beach, with its soft white sands and crystal-clear waters. Here, you can relax on a sunbed, swim in the refreshing sea, or indulge in water sports activities.
If you prefer a more secluded beach experience, head to Bitez Beach. This tranquil bay is surrounded by lush greenery and offers a peaceful escape from the bustling crowds. Spend your day lounging under the shade of a parasol, savoring a delicious meal at one of the beachfront restaurants, or taking a leisurely stroll along the shoreline.
For those looking for a bit of adventure, the Bodrum Peninsula offers numerous opportunities for sailing and yachting. Rent a boat and explore the hidden gems of the coastline, stopping at secluded coves and snorkeling in the crystal-clear waters. The picturesque fishing villages of Gumusluk and Yalikavak are also worth a visit, offering a glimpse into traditional Turkish coastal life.
Must-try cuisine in Bodrum
The region is known for its fresh seafood, flavorful mezes (appetizers), and traditional Turkish dishes. One of the must-try dishes is the famous Bodrum-style fish stew , a hearty and fragrant dish made with locally caught fish, tomatoes, and a blend of aromatic herbs and spices. Pair it with a glass of raki, a traditional Turkish alcoholic drink, for a truly authentic experience.
Another culinary delight in Bodrum is the traditional Turkish breakfast known as kahvalti . Feast on a spread of freshly baked bread, olives, cheeses, cured meats, and a variety of jams and spreads. Wash it down with a cup of Turkish tea or freshly squeezed orange juice for a perfect start to your day.
For a taste of Bodrum's street food scene, head to the local markets and try the famous gözleme , a thin savory pastry filled with various fillings such as cheese, spinach, or minced meat. The vibrant markets are also a great place to sample other local delicacies like Turkish delight, baklava, and freshly squeezed pomegranate juice.
Shopping in Bodrum - local markets and unique finds
Bodrum is a shopper's paradise, offering a wide range of shopping experiences from bustling local markets to high-end boutiques. The Bodrum Market, also known as the Tuesday Market, is a must-visit for those looking for a unique shopping experience. Here, you'll find stalls selling everything from fresh produce and spices to clothing, accessories, and handmade crafts. Bargaining is a common practice, so don't be afraid to haggle for a better price.
If you're in search of high-end fashion and designer brands, head to the Marina Yacht Club. This upscale shopping destination is home to an array of luxury boutiques, showcasing the latest fashion trends and accessories. Take a leisurely stroll along the marina, admire the stunning yachts, and indulge in some retail therapy.
For a more authentic shopping experience, explore the narrow streets of Bodrum's old town. Here, you'll find an eclectic mix of shops selling handmade ceramics, traditional textiles, and unique souvenirs. Take your time to browse through the various stores, and you're sure to find a special memento to remind you of your time in Bodrum.
Nightlife in Bodrum
When the sun sets, Bodrum comes alive with its vibrant nightlife scene. From trendy beach clubs to lively bars and glamorous nightclubs, there's no shortage of entertainment options to keep you dancing until the early hours. One of the most iconic nightlife spots in Bodrum is Halikarnas, a massive open-air nightclub overlooking the sea. With its impressive lineup of DJs, live performances, and spectacular light shows, Halikarnas promises a night to remember.
If you prefer a more relaxed setting, head to one of Bodrum's beach clubs. These stylish venues offer a combination of music, drinks, and stunning views, creating the perfect ambiance for a memorable night out. Dance under the stars, sip on a refreshing cocktail, and enjoy the company of fellow travelers and locals alike.
For a taste of Bodrum's cultural scene, check out the Bodrum Amphitheater. This ancient venue hosts a variety of performances, including concerts, theater shows, and traditional Turkish dances. Immerse yourself in the local culture and witness the incredible talent of the performers.
Outdoor activities and adventure in Bodrum
Bodrum's natural beauty and favorable climate make it an ideal destination for outdoor enthusiasts and adventure seekers. Explore the stunning landscape by taking a hike along the Carian Trail, a long-distance walking route that winds its way through the region's picturesque villages, olive groves, and ancient ruins. Marvel at the panoramic views and immerse yourself in the tranquility of nature.
For those seeking an adrenaline rush, Bodrum offers a range of water sports activities. Try your hand at windsurfing, kiteboarding, or parasailing and experience the thrill of gliding across the azure waters. If you're feeling more adventurous, embark on a scuba diving or snorkeling excursion and discover the vibrant underwater world teeming with marine life.
If you prefer to stay on land, hop on a quad bike and embark on an off-road adventure through Bodrum's rugged terrain. Navigate through dusty trails, conquer steep hills, and soak in the breathtaking vistas. This thrilling experience is sure to get your adrenaline pumping.
Best time to visit Bodrum
The best time to visit Bodrum is during the spring (April to June) and autumn (September to October) months when the weather is mild, and the crowds are smaller. During these seasons, you'll have the opportunity to enjoy Bodrum's attractions and beaches without the summer rush.
The summer months of July and August are the peak tourist season in Bodrum, with temperatures soaring and the beaches bustling with visitors. If you don't mind the crowds and prefer a lively atmosphere, this is the time to visit. Just be sure to book your accommodations and attractions in advance.
During the winter months, Bodrum experiences cooler temperatures, but it is still a great time to visit if you prefer a quieter and more affordable experience. Explore the historical sites, indulge in the local cuisine, or simply enjoy the tranquility of the region.
Conclusion - why Bodrum should be on your travel list
Bodrum, with its enchanting charms and captivating beauty, is a destination that should not be missed. From its rich history and top attractions to its stunning beaches and vibrant nightlife, Bodrum offers something for every traveler. Immerse yourself in the region's history, savor the delicious local cuisine, shop for unique treasures, and dance the night away. Plan your visit to this coastal gem and discover the enchantment of Bodrum for yourself.